Certified Reiki Master and Teacher.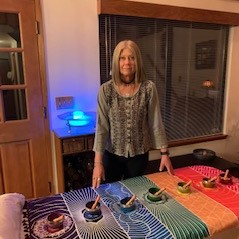 Donna uses energy work to promote Health and Relaxation, with alignment of the Chakras through the Aura field to the Physical Body.
Reiki Energy
Each session is uniquely created using energy crystals, pure grade essential oils, relaxing music and singing bowls. All are used to improve Body and Mind.  Home tools are for purchase, such as Chakra Crystal Jewelry,  Wands and pure grade Essential Oil sets.